Mission Field Nebraska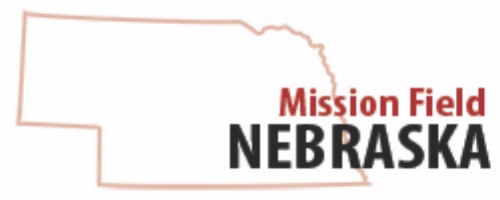 "Therefore, go and make disciples of all the nations, baptizing them in the name of the Father and the Son and the Holy Spirit. Teach these new disciples to obey all the commands I have given you. And be sure of this: I am with you always, even to the end of the age." (Matthew 28:19-20)
The Great Commission calls all of Christ's followers to share the Good News. In the Nebraska Synod, we heed that call for those in our backyard who need to experience God's love by participating in and supporting our Mission Field Nebraska ministries.
Mission Field Nebraska ministries build partnerships that address critical needs within the Nebraska Synod by caring for those in need; providing a spiritually welcoming place for newcomers to our communities, our state and our nation; and seeking to share the Gospel in places where the Church has traditionally been unfamiliar.
The needs are great:
$9,000 a year allows Lakota Lutheran Center and Chapel to offer a soup kitchen three days a week.
$3,000 a month provides pastoral leadership at a Mission Field Nebraska ministry site such as Fontenelle Community Lutheran Church, Iglesia Luterana San Andres or United Southeast Asian Ministry.
$8,000 a year helps provide theological education for the pastoral leadership for the Nile Lutheran Sudanese ministry.
$1,200 a week allows Table Grace Café to provide its ministry of food and fellowship for all while providing job skills training to people in search of employment.
$7,000 a month provides pastoral leadership and program support for Nebraska Synod Prison Ministries and Followers of Christ worship in the Nebraska State Penitentiary.
$4,000 a year provides rent support from the Nebraska Synod to The Welcome Center to provide low-cost legal services to newcomers.
$1,000 provides English-Second Language classes to five individuals through the All the Children of God ministry.
Your support is vital to the work of our Mission Field Nebraska ministries. Every gift will have a dramatic impact on the Nebraska Synod's ability to respond to the spiritual needs of those in our midst who need to experience God's love.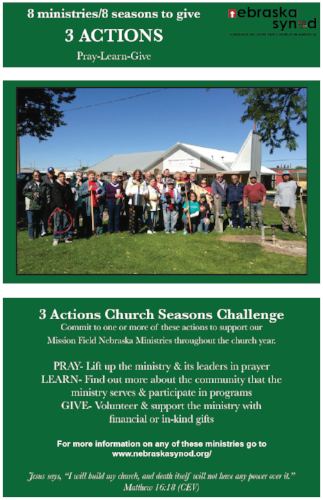 Bulletin Insert for Mission Field Nebraska
Staff Contacts:
---
Support Mission Field Nebraska