Nebraska Synod Journey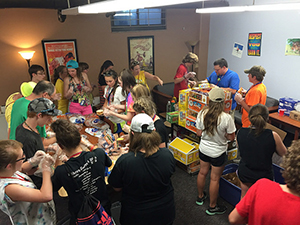 Are you ready for the Journey of your life?  Are you wanting to feel more connected to Jesus and his heart for all of God's creation?  Are you frustrated with the ways communities are divided today?  Would you like to explore a world where we take time to get to know our neighbor so that we can share and feel God's love and acceptance?
"The Heart's Journey" was a way to bring together Jesus followers from across the Nebraska Synod in order to share the love of God across all ages and many cultures.
This year was a unique Journey experience, as participants stayed in Nebraska and Journeyed together in Omaha.  It was open to people of all ages and was also intentionally focused on cross+cultural relationships.  Our partners in Omaha included many of our ministry partners there including Lutheran Family Services, Mosaic and Iglesia Luterana San Andres.  Throughout the week, participants explored God's invitation found in Ezekiel, "A new heart I will give you, and a new spirit I will put within you; and I will remove from your body the heart of stone and give you a heart of flesh" (Ezekiel 36:26).
The 2017 Journey to Omaha called "The Heart's Journey" was held June 11-16.  All ages were welcomed.  To see photos from the Journey visit our Facebook page.
Resources:
Staff & Ministry Contacts:
Director of Faith Formation