Middle School Gathering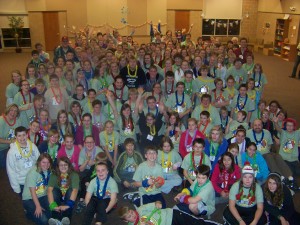 The Middle School Gathering is a highly interactive experience for youth in grades 6-8 and their adult leaders. Each year, the MSG lasts only approximately 31 hours, but the memories last a lifetime.
Why does the Middle School Gathering happen?  A group of adult leaders recently answered that question with these statements:
"Connections to the larger church happen."
"It's leadership development for the young people."
"It's easy to participate."
"Groups are fortified and experiences get taken back home."
"A community is created where everyone can be in God's love."
"All are outside their comfort zones, so people can be authentic with each other."
"Youth get to practice independence and learn life lessons together in a safe place."
"The MSG grows the "faith web" for each youth with additional caring adults."
The next Middle School Gathering will be held January 13-14, 2018 at St. Paul's Lutheran Church in Omaha.  More information and online registration are now available by clicking on this link.
Staff & Ministry Contacts:
Director of Faith Formation