God's IDEA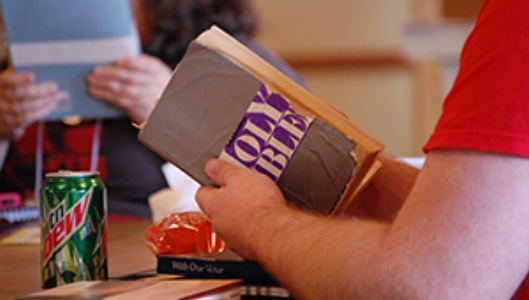 In 2002, Operation IDEA (now known as God's IDEA) was launched by the Nebraska Synod as a program to reach out to people of all ages, asking them to consider if God was calling them to serve as a pastor. The purpose of the program would be to encourage people to Invite, Discern, Excite and Act (IDEA) when it comes to attracing people to the ministry.
After several years, the conversation expanded to include conversations about calls to serve as a Minister of Word and Service (deacons). Since 2002, more than 300 people from middle school through adulthood have taken part in a retreat. Recently, the program was expanded to include deep and focused conversations on how God calls us to be in ministry in vocations other than as professional church workers.
The program relies on individuals such as yourself to invite others to attend one of several retreats. Who do you know with gifts for ministry? Who do you know with questions about God's call in their lives? Who comes to mind when you read this? Please prayerfully consider inviting people to any of these events:
God's IDEA College Retreat
A retreat is held annually for college students who want to explore their vocation or who are asking the question, "What am I going to do with my life?"
This year's retreat will be held Nov. 18-20 at Carol Joy Holling Conference Center in Ashland and will be facilitated by Pastor Rachel Ziese Hacker.
God's IDEA LifeShine Retreat for Adults Beyond College
LifeShine is a biennial retreat for adults beyond college who would like to set apart time to focus on God's call in their lives. 
The next offering of this retreat will be in February 2018 and will be facilitated by Pastor Derrick Fallon and Pastor Tim Koester.
God's IDEA High School Retreat
High school youth are invited to attend the God's IDEA Retreat on February 24-25, 2017.
Click here for more information and to register.
Each youth attends with an adult inviter, and intentional conversations take place throughout the weekend between these two. One adult may invite a maximum of three youth, and a congregation may bring up to six youth and two adults to this event. This retreat will be held at the Carol Joy Holling Conference Center in Ashland and facilitated by Kelsey Ellis and Pastor David Buco.
There is no cost to the participant for any of these retreat experiences.
Staff & Ministry Contacts:
Director of Faith Formation

Nebraska Lutheran Outdoor Ministries